Movie Submissions Update - Out & Loud - PIQFF 2023
The 7th Out & Loud - Pune International Queer Film Festival is proud to announce its official selection of films for 2023. This year we bring you 60 films from across the world to watch in our festival. We also take this opportunity to thank our movie review panel who worked tirelessly to carefully watch and review each submission and the filmmakers for sharing their masterpieces with us!
This year, we received 120 overall submissions from 22 different countries. After watching each and every submissions carefully, we have reached a place where we were able to select a good 60 movies to screen at the 7th edition of Out & Loud - PIQFF which will happen from 25 May 2023 to 28 May 2023 in Pune, India.
Thank you to everyone who contributed directly and indirectly to make this happen.!
Out & Loud 2023 - Official Selections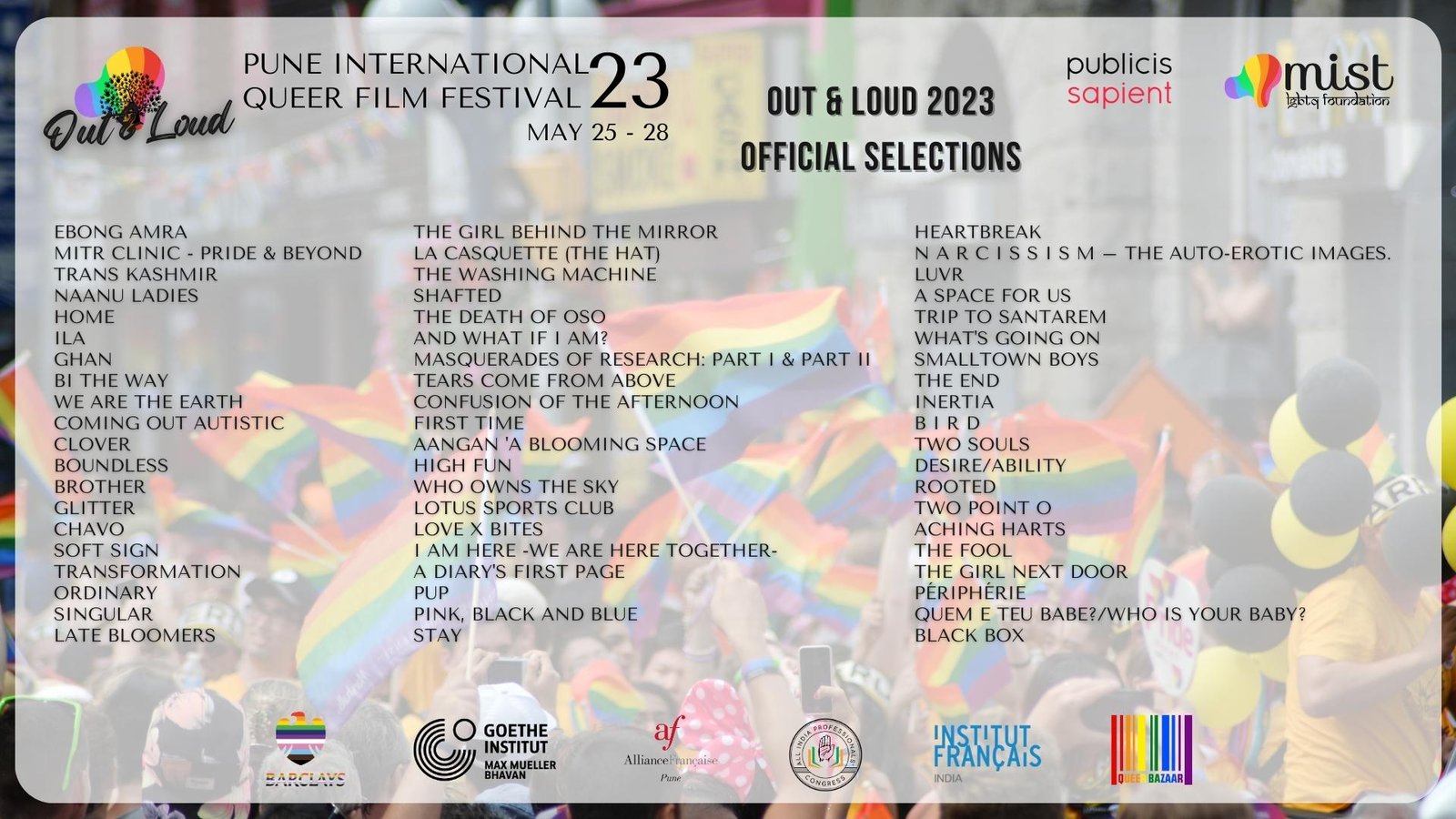 | | | | |
| --- | --- | --- | --- |
| Project Title | Director Name | Country | Language |
| EBONG AMRA | Saikat Das | India | Bengali |
| Mitr clinic - Pride & Beyond | Shrikkant | India | English, Hindi, Telegu |
| Trans Kashmir | Surbhi Dewan, S.A. Hanan | India | Urdu, English, Kashmiri |
| Naanu ladies | Shailaja Padindala | India | Kannada |
| Home | Sujoy Prosad Chatterjee | India | No Dialogue |
| ila | Pruthvi Kantha L | India | Kannada |
| Ghan | Satish Vasant Raste | India | Marathi |
| Bi The Way [Animation] | Amir Ovadia Steklov | Germany | English |
| We are the Earth | Zoé Rose | France | French |
| Coming Out Autistic | Steven Fraser | United Kingdom | English |
| Clover | Jonathan D'Rozario | United States | English |
| BOUNDLESS | David Chai | United States | English |
| Brother | Aleksei Borovikov | United States | English, Russian, Spanish |
| Glitter | Mauricio Sandoval Ron | Argentina | Spanish |
| Chavo | Alecio Araci | Sweden | Romany, Swedish |
| Soft Sign | Victoria Uchitel | Israel | Arabic, Hebrew, Russian |
| Transformation | Saeed Mayahy, Miriam Carlsen | Turkey | Arabic, English, Persian |
| Ordinary | Atlas O Phoenix | United States | English |
| SINGULAR | Guy Harries | United Kingdom | English |
| Late Bloomers | Solveig Selj | Norway | Norwegian |
| The Girl Behind the Mirror | Iuri Moreno | Brazil | Portuguese |
| La casquette (The hat) | Hadi Moussally | France | French |
| The Washing Machine | Diane Malherbe | Spain | No Dialogue |
| Shafted | Emerson Collins, Del Shores | United States | English |
| The death of Oso | Xaho | Spain | Spanish |
| And What if I Am? | Bryan Powers | United States | English |
| Masquerades of Research: Part I & Part II | Padraig Robinson | Ireland | English |
| Tears come from above | Margaux Fazio, Manon Stutz | Switzerland | French |
| Confusion of the Afternoon | Yung-Chieh Lee | Taiwan | No Dialogue |
| First Time | Daniel Kahana | United States | English |
| Aangan 'a blooming space' | Shiv Priya | India | Hindi |
| High Fun | Adesh Prasad | India | Panjabi |
| Who Owns The Sky | Sabian Baumann | Switzerland | English, French, German, Spanish |
| Lotus Sports Club | Vanna Hem, Tommaso Colognese | Netherlands | Central Khmer |
| Love X Bites | M. Noe, Yupar Momo | Myanmar | Other |
| I Am Here -We are here together- | Tomoya Asanuma | Japan | Japanese |
| A Diary's First Page | Hriday Rao Chauhan | India | English, Hindi, Malayalam |
| PUP | Sarawut Intaraprom | Thailand | Thai |
| Pink, Black and Blue | Claudia Lopez Lucia | France | French |
| Stay | King Louie Palomo | Canada | English |
| Heartbreak | Fernando García Pliego | Spain | Spanish |
| N A R C I S S I S M – The Auto-Erotic Images. | Toni Karat | Germany | English, German |
| LUVR | Carlos Montes de Oca | Mexico | Spanish |
| A Space For Us | Seed Meyer Minkin, Emory Rose Harger | United States | English |
| Trip to Santarem | Laure Desmazières | France | French |
| What's going on | Hero Swag | Australia | English |
| Smalltown Boys | Gaël Lepingle | France | French |
| The end | Fernando Reinaldos | Spain | No Dialogue |
| Inertia | Mat Johns | United Kingdom | English |
| B I R D | Soraya Arrabal | United States | English |
| Two Souls | Myat Noe | Myanmar | Other |
| Desire/Ability | Davo Hardy | Australia | English |
| Rooted | Yi-wei Wu | Taiwan | Mandarin Chinese |
| Two Point O | David Anderson, Aaron Joshua | United States | English |
| Aching Harts | Renée van Zadelhof | Netherlands | Dutch |
| The fool | Parisa Shirvani | France | French |
| The Girl Next Door | Danna Gilbertson | United States | English |
| Périphérie | Thibault Bru | France | French |
| Quem e teu babe?/Who is your baby? | Lucas Paz | United States | English, Portuguese |
| Black Box | Alana Mango | United States | English |
Out & Loud 2023 - Schedule
| | | | | | | | |
| --- | --- | --- | --- | --- | --- | --- | --- |
| Day 1 - 25.05.2023 - Thu | Goethe Institut Max Mueller Bhavan Pune, Boat Club Road | Project Title | Duration | Country | Language | Category | No of Movies |
| 04:00 PM to 06:00 PM | Movie Screening - Slot 1 | N A R C I S S I S M – The Auto-Erotic Images. | 1:30:08 | Germany | English, German | German | 1 |
| | | Mitr clinic - Pride & Beyond | 0:09:47 | India | English, Hindi, Telegu | Indian | |
| | | Home | 0:18:14 | India | No Dialogue | Indian | |
| | | | | | | | |
| Day 2 - 26.05.2023 - Fri | The Box, Pune द बॉक्स, Erandwane | Project Title | Duration | Country | Language | Category | No of Movies |
| 10:00 AM to 12:00 PM | Movie Screening - Slot 1 | Lotus Sports Club | 1:11:53 | Netherlands | Central Khmer | Other | 4 |
| | | Stay | 0:22:00 | Canada | English | Other | |
| | | Heartbreak | 0:18:38 | Spain | Spanish | Other | |
| | | LUVR | 0:07:00 | Mexico | Spanish | Other | |
| | | | | | | | |
| Day 2 - 26.05.2023 - Fri | The Box, Pune द बॉक्स, Erandwane | Project Title | Duration | Country | Language | Category | No of Movies |
| 12:00 PM to 01:30 PM | Movie Screening - Slot 2 | Masquerades of Research: Part I & Part II | 1:03:24 | Ireland | English | Other | 4 |
| | | Confusion of the Afternoon | 0:02:50 | Taiwan | No Dialogue | Other | |
| | | First Time | 0:18:16 | United States | English | Other | |
| | | Two Point O | 0:05:24 | United States | English | Other | |
| | | | | | | | |
| Day 2 - 26.05.2023 - Fri | The Box, Pune द बॉक्स, Erandwane | Project Title | Duration | Country | Language | Category | No of Movies |
| 02:00 PM to 04:00 PM | Movie Screening - Slot 3 | Bi The Way [Animation] | 0:15:00 | Germany | English | Other | 10 |
| | | Coming Out Autistic | 0:03:55 | United Kingdom | English | Other | |
| | | Clover | 0:12:03 | United States | English | Other | |
| | | BOUNDLESS | 0:09:37 | United States | English | Other | |
| | | Brother | 0:17:17 | United States | English, Russian, Spanish | Other | |
| | | Glitter | 0:15:27 | Argentina | Spanish | Other | |
| | | Chavo | 0:15:00 | Sweden | Romany, Swedish | Other | |
| | | Soft Sign | 0:24:11 | Israel | Arabic, Hebrew, Russian | Other | |
| | | LEOPOLD NUNAN feat SONIA SANTOS and ANA GAZOLLA - Quem e teu babe?/Who is your baby? | 0:03:06 | United States | English, Portuguese | Other | |
| | | Black Box | 0:04:09 | United States | English | Other | |
| | | | | | | | |
| Day 2 - 26.05.2023 - Fri | The Box, Pune द बॉक्स, Erandwane | Project Title | Duration | Country | Language | Category | No of Movies |
| 04:00 PM to 06:00 PM | Movie Screening - Slot 4 | We are the Earth | 0:05:00 | France | French | French | 5 |
| | | La casquette (The hat) | 0:03:26 | France | French | French | |
| | | Tears come from above | 0:06:05 | Switzerland | French | French | |
| | | Who Owns The Sky | 1:22:00 | Switzerland | English, French, German, Spanish | French, German | |
| | | Pink, Black and Blue | 0:22:00 | France | French | French | |
| | | | | | | | |
| Day 2 - 26.05.2023 - Fri | The Box, Pune द बॉक्स, Erandwane | Project Title | Duration | Country | Language | Category | No of Movies |
| 07:15 PM to 08:45 PM | Movie Screening - Slot 5 | Smalltown Boys | 1:24:23 | France | French | French | 2 |
| | | The fool | 0:10:00 | France | French | French | |
| | | | | | | | |
| Day 3 - 27.05.2023 - Sat | The Box, Pune द बॉक्स, Erandwane | Project Title | Duration | Country | Language | Category | No of Movies |
| 10:00 AM to 12:00 PM | Movie Screening - Slot 1 | PUP | 1:35:00 | Thailand | Thai | Other | 3 |
| | | A Space For Us | 0:19:02 | United States | English | Other | |
| | | What's going on | 0:04:03 | Australia | English | Other | |
| | | | | | | | |
| Day 3 - 27.05.2023 - Sat | The Box, Pune द बॉक्स, Erandwane | Project Title | Duration | Country | Language | Category | No of Movies |
| 12:00 PM to 01:30 PM | Movie Screening - Slot 2 | Transformation | 0:50:00 | Turkey | Arabic, English, Persian | Other | 4 |
| | | Ordinary | 0:11:43 | United States | English | Other | |
| | | SINGULAR | 0:16:30 | United Kingdom | English | Other | |
| | | The Girl Behind the Mirror | 0:12:05 | Brazil | Portuguese | Other | |
| | | | | | | | |
| Day 3 - 27.05.2023 - Sat | The Box, Pune द बॉक्स, Erandwane | Project Title | Duration | Country | Language | Category | No of Movies |
| 02:00 PM to 04:00 PM | Movie Screening - Slot 3 | Trip to Santarem | 0:27:59 | France | French | French | 5 |
| 04:00 PM to 06:00 PM | Movie Screening - Slot 4 | Périphérie | 0:16:04 | France | French | French | |
| | | ila | 0:28:35 | India | Kannada | Indian | |
| | | Ghan | 0:20:00 | India | Marathi | Indian | |
| | | Naanu ladies | 2:30:31 | India | Kannada | Indian | |
| | | | | | | | |
| Day 3 - 27.05.2023 - Sat | The Box, Pune द बॉक्स, Erandwane | Project Title | Duration | Country | Language | Category | No of Movies |
| 07:15 PM to 08:45 PM | Movie Screening - Slot 5 | EBONG AMRA | 0:29:40 | India | Bengali | Indian | 2 |
| | | Trans Kashmir | 1:02:00 | India | Urdu, English, Kashmiri | Indian | |
| | | | | | | | |
| Day 4 - 28.05.2023 - Sun | Goethe Institut Max Mueller Bhavan Pune, Boat Club Road | Project Title | Duration | Country | Language | Category | No of Movies |
| 10:00 AM to 12:00 PM | Movie Screening - Slot 1 | I Am Here -We are here together- | 0:58:34 | Japan | Japanese | Other | 6 |
| | | The end | 0:10:00 | Spain | No Dialogue | Other | |
| | | Inertia | 0:18:13 | United Kingdom | English | Other | |
| | | B I R D | 0:05:37 | United States | English | Other | |
| | | Two Souls | 0:21:03 | Myanmar | Other | Other | |
| | | The Washing Machine | 0:06:00 | Spain | No Dialogue | Other | |
| | | | | | | | |
| Day 4 - 28.05.2023 - Sun | Goethe Institut Max Mueller Bhavan Pune, Boat Club Road | Project Title | Duration | Country | Language | Category | No of Movies |
| 12:00 PM to 01:30 PM | Movie Screening - Slot 2 | Late Bloomers | 0:22:38 | Norway | Norwegian | Other | 4 |
| | | Shafted | 0:19:58 | United States | English | Other | |
| | | The death of Oso | 0:24:50 | Spain | Spanish | Other | |
| | | Love X Bites | 0:17:43 | Myanmar | Other | Other | |
| | | | | | | | |
| Day 4 - 28.05.2023 - Sun | Goethe Institut Max Mueller Bhavan Pune, Boat Club Road | Project Title | Duration | Country | Language | Category | No of Movies |
| 02:00 PM to 04:00 PM | Movie Screening - Slot 3 | And What if I Am? | 0:15:59 | United States | English | Other | 5 |
| | | Desire/Ability | 0:22:00 | Australia | English | Other | |
| | | Rooted | 0:28:45 | Taiwan | Mandarin Chinese | Other | |
| | | Aching Harts | 0:13:38 | Netherlands | Dutch | Other | |
| | | The Girl Next Door | 0:07:00 | United States | English | Other | |
| | | | | | | | |
| Day 4 - 28.05.2023 - Sun | Goethe Institut Max Mueller Bhavan Pune, Boat Club Road | Project Title | Duration | Country | Language | Category | No of Movies |
| 04:00 PM to 05:30 PM | Movie Screening - Slot 4 | Aangan 'a blooming space' | 0:34:00 | India | Hindi | Indian | 2 |
| | | A Diary's First Page | 0:30:38 | India | English, Hindi, Malayalam | Indian | |