Out & Loud - PIQFF 2020
The fourth Edition of Out & Loud - Pune International Queer Film Festival powered by MIST will now take place on an online platform this September. Keeping in mind the safety and health of the community during this pandemic, we have chosen to switch to an online medium to showcase the incredible 50+ official selections for this year's festival.
When is it happening?
OPENING CEREMONY

5th Sep 2020


SCREENING OF MOVIES

6th Sep to 27th Sep

CLOSING CEREMONY

27th Sep 2020

What next?
The online platform for the festival is an OTT platform and ready to display all the wonderful movies that we have shortlisted for this edition of Out & Loud 2020.
How to register?
We have two different ways for audience logging in from India and from anywhere else in the world. Click on the buttons below depending on where you are to pre-book your passes! You'll have complete access to the film festival's content from 5th September, 2020.
So what are you waiting for! Go ahead click the button that applies for you!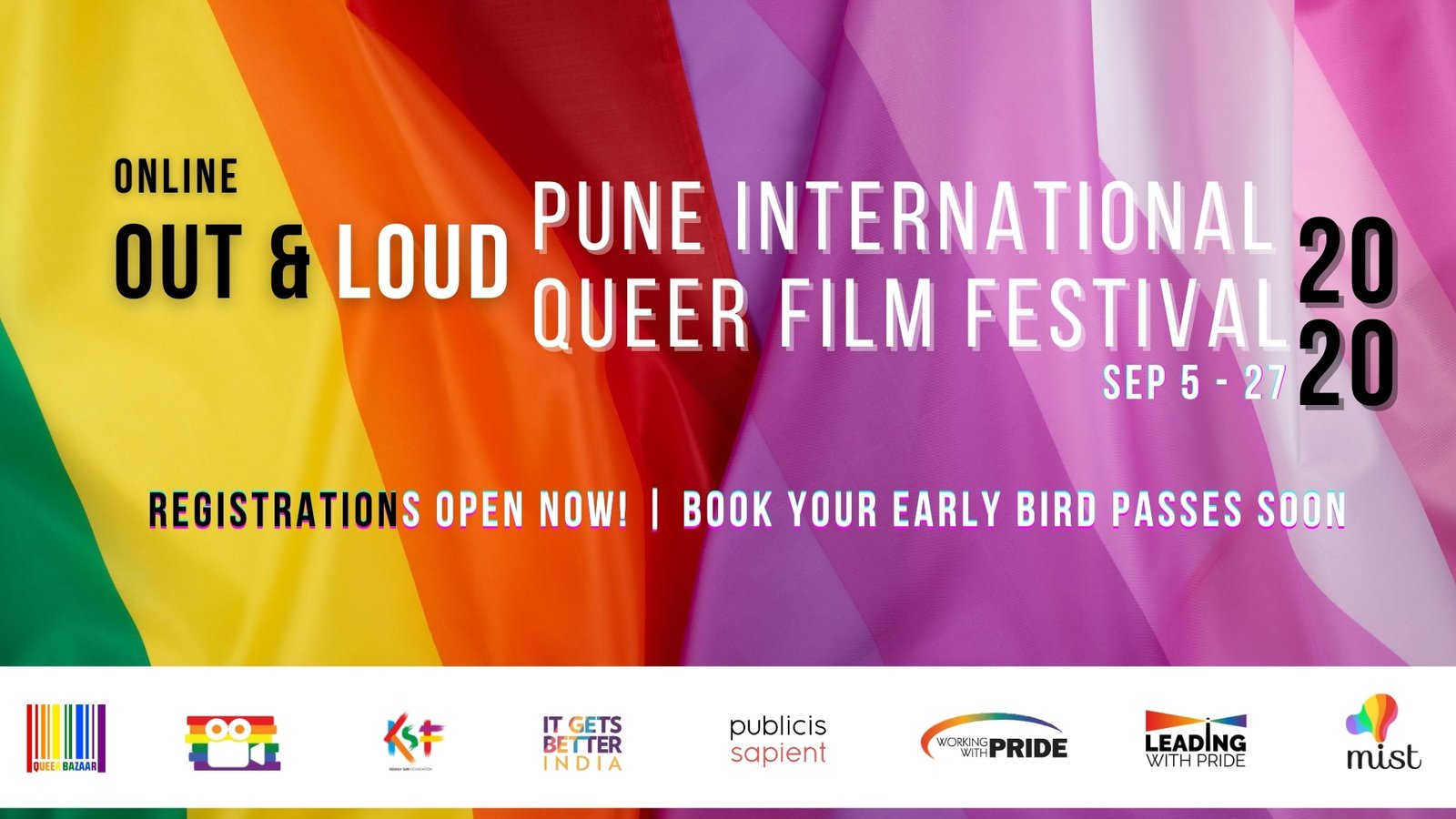 Sponsors & Partners of Out & Loud - PIQFF 2020
Past Editions of Out & Loud - PIQFF 2020
Out & Loud – PIQFF, 2017, was a three-day event (7th-9th April, 2017), where 47 movies were screened at Wherelse Café and Bar, Viman Nagar and Dreamcatcher Art School, Koregaon Park, Pune. Read more about Out & Loud – PIQFF 2017 here.
Out & Loud – PIQFF, 2018, was a three-day event (6th-8th April, 2018), where 128 movies were screened at Farmaaish Restro-Lounge-Bar, Viman Nagar and Monalisa Kalagram, Koregaon Park, Pune. Read more about Out & Loud - PIQFF 2018 here.
Out & Loud – PIQFF, 2019, was a four-day event (18th - 21st April, 2019), where 51 movies were screened at PVR Cinemas, Farmaaish, Viman Nagar and Annabhau Sathe Rang Mandir, Yerwada, Pune. Read more about Out & Loud - PIQFF 2019 here.
Testimonials about Out & Loud - PIQFF
Unfortunately, we could not attend the screening of our film, FOREIGN at this festival but the entire experience with the programmers was utterly effortless, professional and so organized! I wish them the best and can't recommend them enough!
Unfortunately, I haven't been able to attend the festival for I live in Canada, but I was very delighted that our film "The Fruit of Our Womb" was part of it and won a price. Communication was great before the festival, however during and after it tends to lack. I understand though that they are a lot of volunteers with a lot to deal with!
Great to part of such a nice festival. They had a great line up of films from around the world. Thank you for making the effort to make festivals like this.
Nice ambience, great experience, responsible crew. Overall, I enjoyed the festival.
Follow us to stay updated