International Transgender Day of Visibility (also called TDOV, Transgender Day of Visibility) is an annual event occurring on March 31, dedicated to celebrating transgender people and raising awareness of discrimination faced by transgender people worldwide, as well as a celebration of their contributions to society.
The very fist event started in 2009 and since then various individuals, and organziations (collective, ngo's, cbo's, foundation's) actively started participating and celebrating the day. Since 2017, Mist has been associated in organizing events on this day to celebrate our trans-siblings.
Mist has been organizing cultural events or a visibility event by organizing lunch at a prominent place for the past years since it started celebrating TDOV. When our team started planning for TDOV 2022, the biggest questioned on the table was,
"Are we doing enough? Is the cultural event or the lunch is all they expect or wanted?" and the unambiguous answer was NO.
That is the inception of procuring health insurance for the transgender community. On this occasion we at Mist are starting a new project to help the transgender community in Pune by providing free private health insurance policy, as the community generally does not get good health care facility from the public hospitals and face discrimination. Through this insurance policy we want to make sure the transgender community is provided with best, private and reliable health care facility.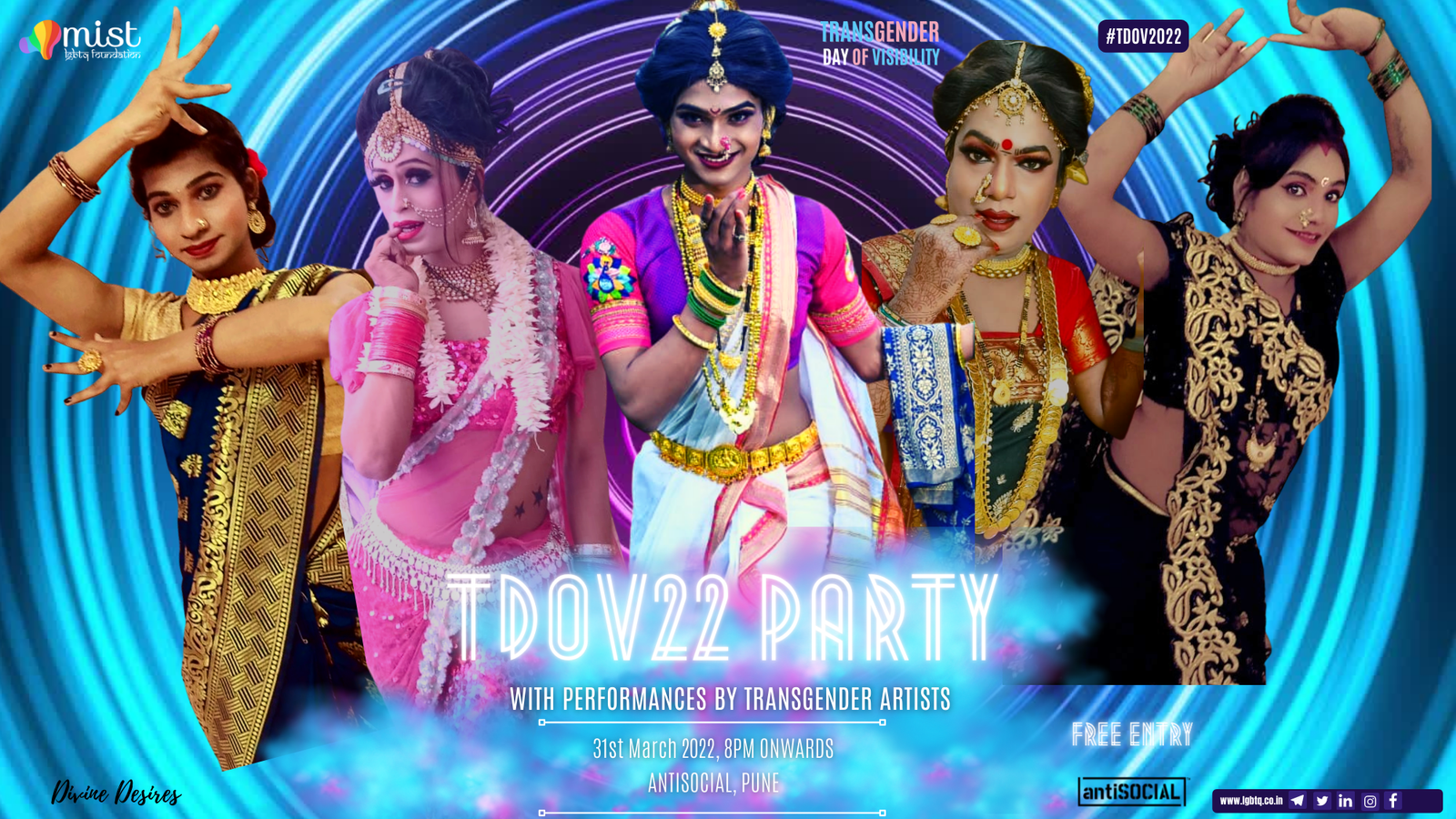 Join us at the launch of the free health insurance for the transgender community along with few performances to witness a first-of-this kind change in the society. As a first step, we will be insuring 30 transgender people from Pune and this will be extended to more people in the coming days.
Performances by:
Shakila Chiplunkar
Snehal Bawanthade
Teju Punekar
Mahendra Punekar
Sameera Punekar
Date & Time : 31 March 2022, 7:30 PM
Location : antiSOCIAL Pune, Mezzanine Floor, FC Road, Pune
Click here for Google Maps location
<Press M button in the lift to reach to the Mezzanine Floor directly>