IDAHOBIT or International Day Against Homophobia, Biphobia, and Transphobia is a day dedicated to raising awareness about the violence and discrimination faced by the LGBTQIA+ community the world over. May 17th was picked because on May 17th, 1990, the World Health Organization (WHO) declassified or removed homosexuality as being a mental disorder from the Classification of Diseases and Related Health Problems. The first International Day Against Homophobia was celebrated on 17th May 2005, after a yearlong campaign led by Frenchman Louis-Georges Tin. The theme of this year's (2022) IDAHOBIT is 'Our Bodies, Our Lives, Our Rights'.
With this in mind, we would like to highlight the pressing need to oppose the Transgender Persons (Protection of Rights) Bill, 2019, which was introduced in Lok Sabha on July 19, 2019. The act has been in effect since 10th January 2020. Two key points remain that the bill was made without consulting the members of the transgender community and that by requiring gender reaffirmation surgery to change one's ID, it violates the NALSA Judgement's provision of fundamental right to self-determination of one's gender identity. Further, sexual abuse of a transgender person is punishable by only two years imprisonment under the Bill as opposed to sexual abuse under the Indian Penal Code, where the minimum punishment is seven years.
Here are a few oppressive elements of the Trans Bill, 2019, sourced from stoptransbill2019, an Instagram protest page against India's Transgender Persons Bill 2019.
It mandates a surgery certificate for granting 'trans' identity to an individual
No mention of affirmative action which is crucial in creating access to education and employment opportunities
Restrictive definition of 'family' that excludes hijra families, and forces trans persons to be sent to rehabilitation centres
Lesser punishment for crimes against trans persons
Restriction of legal rights of trans persons
Laws restricting the human rights of transgender persons under the guise of protecting them are not just an issue in India. In the first week of 2022, seven states in the United States of America proposed laws that would limit the rights of transgender and non-binary youths, targeting their ability to participate in sports, receive gender-affirming care or use the bathroom. The Trans Legal Mapping Report released by IGLA World in 2020 found defect in criminalization of trans people under laws in 37 countries.
Achieving legal gender recognition through a self-determination model, without requirements such as surgical, hormonal, or psychiatric criteria is crucial to preserve the human rights of transgender people. Affirmative policies in the field of education, employment, healthcare is also necessary to counter the historical marginalization and discrimination against the community. It is 'our bodies, our lives, our rights', and unless we get to participate in the law-making practices governing our bodies, we will have to continue to fight a hetero-patriarchal state for our rights and struggle to survive in a hetero-patriarchal society.
LGBTQ+ community members often become the victim or rape and murder. The protection which is provided to a non-LGBTQ+ person is often denied to the member of LGBTQ+ community. They are the one who face discrimination and bullied in all environments including workplaces and home. Being a marginalized community, the basic rights and needs are mostly denied or differently provided. There are more to this.
This needs to stop and we can do it together. On this International Day Against Homophobia, Biphobia, and Transphobia, take the pledge to become an ally to the community and help us eradicate the struggles the community has been facing for several years now. Together, you, me and we can stop Homophobia, Transphobia, and Biphobia.
~ Written by Smriti Girish (They/Them)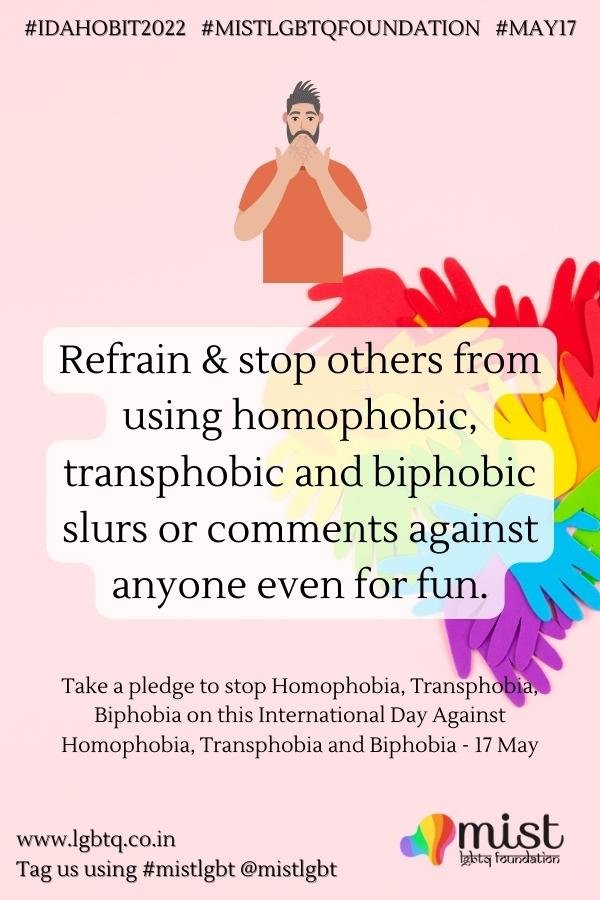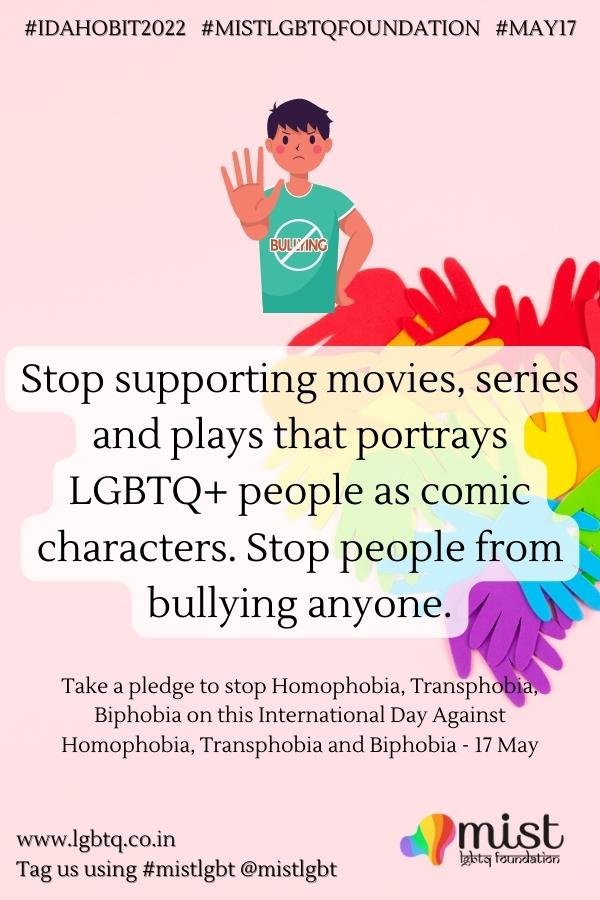 Join us on Tuesday, May 17th 2022, to take a stand against LGBTQIA+ discrimination. Mist is organising an awareness campaign event at FC Road in Pune and Brigade Road in Bangalore from 6pm to 8pm. We're looking for volunteers to help us make our activities impactful and to take our message to more people. Message us on our Instagram handle or simply show up at the location if you are interested. We hope to see you in large numbers.
Date & Time : 17 March 2022, 6:00 PM - 7:30 PM
Location : FC Road, Pune & Brigade Road, Pune